Who doesn't love a slice of carrot cake? We found this speedy demonstration of how to make and decorate a carrot cake from the Hummingbird Bakery. You can of course decorate it how you like, and while it's available at the their bakeries, why not give this one whirl at home?
Watch the video
They say that, smothered in cream cheese frosting, this sweetly spiced, walnut-studded wonder sponge is one of their customer favourites. See the recipe.
*New! Check this post with The Hummingbird Bakery's video for Pumpkin and Cream Cheese Roulade
The Origins Of Carrot Cake
Recipes for carrot cake date back to the 1500s with carrot puddings eaten by Europeans in the Middle Ages. They contained ingredients including cream, eggs, raisins, sweetener (dates and sugar), spices (clove and mace), scraped carrot, and breadcrumbs (in place of flour). It became popular in European cookbooks of the 1800s and the popularity in the UK came about because of rationing during the World War II. (Source: Wikipedia Carrot Cake)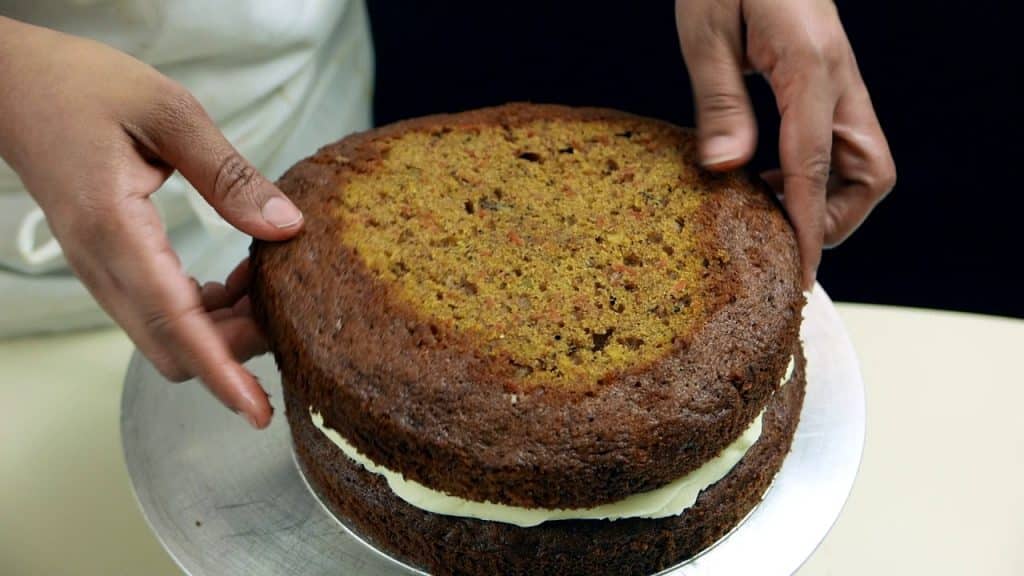 About Hummingbird Bakery
The Hummingbird Bakery is an American-style bakery founded in 2004 to bring the authentic taste of American home baking to London. The company opened its first branch on Portobello Road in Notting Hill in 2004 and has since launched a further five branches across London in South Kensington, Soho, Spitalfields, Islington and Richmond. It also has a franchise presence in the Middle East with two branches already operating in Dubai.
More about Hummingbird Bakery (external link).
Carrot Cake Recipe
by The Hummingbird Bakery
Ingredients:
300 g soft light brown sugar
3 eggs
300 ml sunflower oil
300 g plain flour
1 teaspoon bicarbonate of soda
1 teaspoon baking powder
1 teaspoon ground cinnamon, plus extra to decorate
½ teaspoon ground ginger
½ teaspoon salt
¼ teaspoon vanilla extract
300 g carrots, grated
100 g shelled walnuts, chopped, plus 75 g extra, chopped and whole, to decorate
1 quantity Cream Cheese Frosting
Cream Cheese Frosting
For the method and cream cheese frosting we used the version from Good To Know:
300g icing sugar,
sifted50g unsalted butter,
at room temperature125g cream cheese, cold
For the method, read more at https://www.goodtoknow.co.uk/recipes/cream-cheese-frosting
*New! Check this post with The Hummingbird Bakery's video for Pumpkin and Cream Cheese Roulade
Don't Forget The Video (3:23)
Follow the Hummingbird Bakery on YouTube.